Back to Top
Careers: Corporate Responsibility
To view the full S&C Corporate Responsibility Report 2021, click here.
Top Workplaces Awards
In 2021, Top Workplaces USA named S&C a top workplace in the Large Employer category. This national award joins S&C's back-to-back wins as a Chicago Tribune Top Workplace in 2019 and 2020. These achievements highlight our nurturing company culture that champions diversity, inclusion, and respect for one another. Given the additional challenges COVID-19 has brought to employers, S&C was honored to be recognized among organizations covering a wide range of industries, including real estate, healthcare, education, and restaurants.
Inclusion on the list depended on S&C team members participating in a survey during which they were asked to provide honest confidential feedback. At least 35% of team members had to respond for S&C to qualify. More than 850 of S&C's Chicago team members participated in the survey, which determined the 2020 Chicago Tribune and the 2021 Top Workplaces USA placements.
As part of the Top Workplaces USA benchmark, S&C was selected for two subsequent awards. S&C was recognized as a top workplace in the manufacturing industry, ranking 2nd nationally. Additionally, S&C received a Culture Excellence Award for Communication, recognizing the transparency of S&C's internal communications and that our team members feel informed of the company's decisions and direction.
Caring For Our Team Members
Caring for our team members and our customers has long been at the core of the S&C culture, guiding the decisions S&C leaders make and extending into the daily actions our team members take to help keep their coworkers and themselves safe and healthy.
In the wake of the COVID-19 pandemic, across the globe both companies and individuals were confronted with uncertainty and unexpected challenges. S&C's culture of safety and responsible stewardship proved essential in our response to keep our employees safe and continue to serve our customers with excellence.
COVID-19 was a new safety focus in 2020, but S&C continued its steadfast commitment to strive toward zero safety incidents. We set our targets very high, motivating us to do even more to drive our metrics down. This commitment to safety has helped S&C remain significantly below industry averages for Total Case Incident Rate (TCIR) and Days Away, Restricted, and Job Transfer (DART) metrics.
Giving Back to the Community
S&C and its team members recognize the importance of giving back to the communities in which the company operates and serves. As such, each year a variety of events are held to support a host of organization and philanthropic needs.
Reducing Our Carbon Footprint
S&C has always committed to being a good citizen and neighbor in the communities in which we operate, and this has long included taking meaningful steps to reduce our carbon footprint. We constantly strive to minimize and eliminate waste where we find opportunities, drive down creation of harmful gas emissions and volatile organic compounds, and keep solid waste out of landfills.
Emissions
S&C continues to set ambitious goals for environmental emissions and is committed to investing in technology to continuously reduce our emissions well beyond that of our permitted limits and our peers. In 2018, S&C invested in a powder top-coat paint application, migrating away from volatile organic compound (VOC)-based liquid paint. This continued to pay dividends in 2020 in quality, performance, and emission reduction. Because of these quality and efficiency improvements, VOC emissions in 2020 dropped an additional 25 percent, to 1.3 tons, while emissions of Hazardous Air Pollutants (HAPs) fell by 0.5 percent, to 68 pounds.
Conservation
S&C's headquarters and primary manufacturing facility in Chicago, which typically accounts for 78 percent of the company's global power consumption, has had 100 percent of its consumption offset with renewable energy credits since 2012. S&C's overall utility use for 2020 was lower than in the previous years. However, to compensate for organizational growth, S&C measures performance through a usage-factor metric that considers productivity, square footage, and labor hours. Based on this usage-factor metric, S&C's use of utility resources was up in 2020, and this is attributable to pandemic-related company initiatives focused on the health and safety of team members.
Waste Management
S&C diverted 98.6 percent of its waste from landfill disposal globally. Waste-reduction processes, including better segregation of waste for recycling purposes, have been aided through work with a third-party waste-management company and upheld by S&C's dedicated "green team" of volunteers. Dubbed the ECO-Eagles, the team members keep an eye on our waste-collection areas, ensuring proper item segregation and a more effective recycling program.
Composting was down significantly in 2020 because many S&C team members worked remotely and our onsite cafeterias and vending areas closed for a majority of the year to meet COVID-19 safety precautions. In 2020, S&C collected 15.3 tons of compost in Chicago, down 61 percent from the previous year.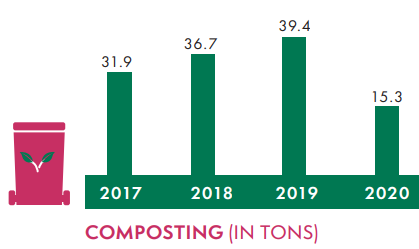 Team Member Sustainability Efforts
Knowing small changes to our daily lives can add up to a significant collective impact, our team members take action every day to reduce their individual carbon footprints.
Search for Openings
Help keep the lights on for billions around the world. Search our open jobs below.